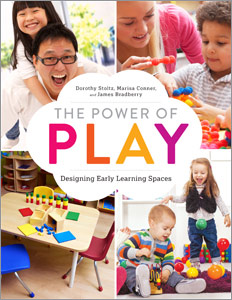 Develop a Play Space
The resources on this page were compiled pre-pandemic to help design or enhance a play space in your library setting. These types of play spaces are on hold at the moment, of course, but could return in a modified form in the future.
In this hands-on guide, an early childhood specialist, a designer, and an outreach librarian take you step-by-step through the process of designing an early learning space that fits your space limitations and budget.
Visit the ALA store to peruse a sample chapter or purchase the book.
This ALSC blog post on "Play in the Library" has ideas for simple, yet helpful ways to connect with children and parents through play.
Check out this article on "Dynamic Early Learning Spaces" in School Library Journal. It contains a variety of photos and examples of different play spaces.